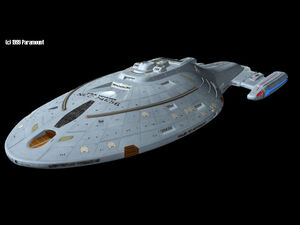 General Description
Written by Bernd Schneider
First introduced around 2370, the Intrepid class is among the fastest starships of the fleet. It features bioneural computer components and a variable geometry warp field which is accomplished with folding warp pylons.

Memory Alpha's Intrepid-class Article
Known ships
USS Intrepid NCC-74600
USS Bellerophon NCC-74705
USS Voyager NCC-74656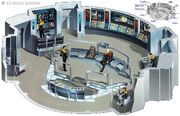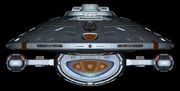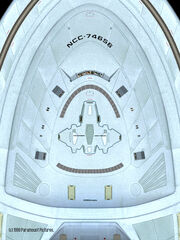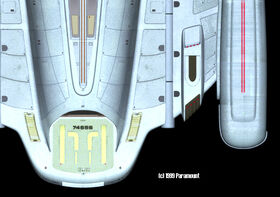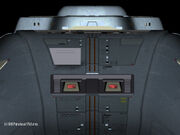 Intrepid Class Starship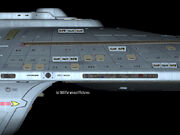 Ship Name: Intrepid Class Starship 
Brief description of ship: A sleek running shoe of a ship.

Campaign role for the ship: To carry the PCs deep into unknown space

Fleet role: Light, multirole cruiser.

Built: 2371
Dimensions:
Length : 344m
Beam : 133 m
Height : 66 m
Decks : 15
Distinguishing Marks (Odd paint job, repair scars etc.): None, 
Equipment Quirks and Problems:  None, out of the box
Equipment Advantages:  The Intrepid Class has the absolute latest Computers, sensors, shields, weapons and software.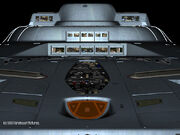 Shuttles:
1 Aerowing Type Runabout  2 Type  8 Personnel Shuttlecraft  2 Type 9 Shuttlecraft  4 Type 18 Shuttlepod
Primary Power: The Intrepid Class uses the latest revision of the powerful matter/anti-matter reactor.

Secondary Power: The Intrepid Class uses a robust and reliable Starfleet Impulse power system.

Primary Weapons: The Intrepid Class main strike weapon is set of four quantum torpedo launchers, 2 fwd, 2 aft. She can launch four torpedoes in each direction at a time.

Secondary Weapons: The Intrepid Class has collimated Phaser Arrays ccovering all arcs.

Crew/Passengers: 150/700
Command Staff
CO - 
XO - 
OPS - 
SEC - 
CENG - 
CMO - 
CSc - 
CMO -
Counsellor -  
Helm -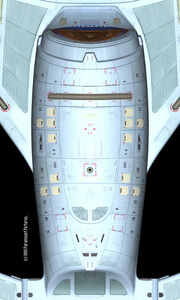 Enterprise-D Scale On a scale of 1 1000 where 1000 is The Enterprise-D
Science capacity - 750
Crew Comfort - 1125
Duration - 1500
Medical facilities - 750
Tactical maneuvering - 3,526
Strategic Speed - 6,000
Defense - 500
Offense - 500
Versatility - 275
Internal Security - 1000
Community content is available under
CC-BY-SA
unless otherwise noted.